Uniform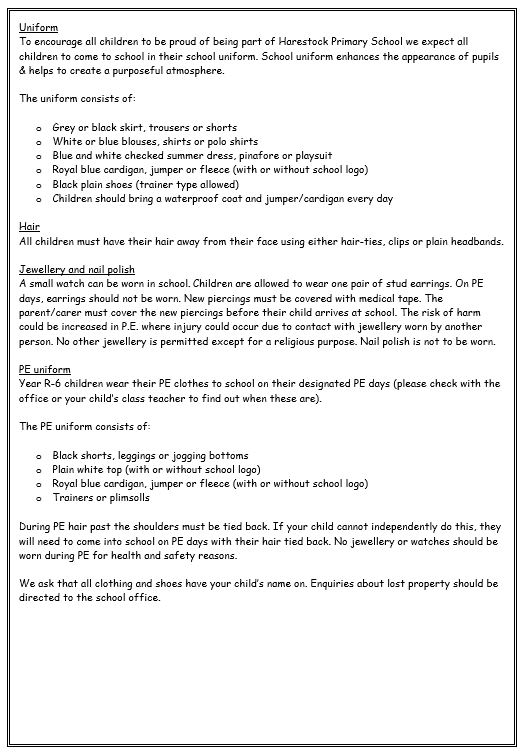 Our school uniform with logo is available to purchase online via Mapac. Orders will be delivered directly to your home. The uniform has our school logo embroidered on each item apart from on the book bags, PE bags and PE shirts which have the logo printed on. Child sized items are available age 3/4 to age 13 (adult sizes are also available).
Below is the link which will take you directly to the Harestock Primary uniform page rather than scrolling to find it.
mapac.com
Prices for child sizes age 3/4 – age 13 are:
Sweatshirts £11.10
Cardigans £11.70
Reversible fleece jackets £22.85
The items below are optional, you may wish to buy these from a supermarket:
PE T shirts £3.50
Book bags £5.94 inc VAT
PE bag £3.54 inc VAT
There are other items displayed on the page with our uniform such as trousers, shorts, skirts, summer dresses etc this is a standard feature on the website. There is no obligation to purchase these as they can be bought at any supermarket or from another outlet online.
Uniform currently in stock in school:
We currently have a limited number of items left in stock in school.
Adult sized sweatshirt £6
Adult sized cardigans £8
Fleeces in 3-4, 5-6 £13
Caps £1.50
Please come into the office to check availability.
Throughout the year we also have second hand uniform sales. Upcoming sale dates will be advertised on our school calendar events page and in the school newsletters.